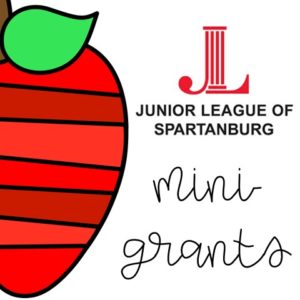 In 1986, the Junior League of Spartanburg, Inc. founded Mini-Grants for Teachers to provide Spartanburg County schoolteachers with funding needed for classroom activities and programs. While the term "teachers" is used in the program name, our organization is aware of the many changes in school personnel since awarding our first grants. Today, we welcome applications from all types of educators, including media specialists and guidance counselors, to name a few. 
Our current grant year application window is open! Click the links below to apply.
Educators may apply for individual grants up to six hundred dollars ($600) or team grants of up to one thousand dollars ($1,000). Should the total project cost exceed the maximum award amount, the applicant must indicate where they will seek additional funding. 
Applications are judged anonymously by a panel of educators, administrators, and community leaders involved in education. The panel considers the following factors when evaluating applications: creativity, benefit to students, degree of student involvement, efficient use of funds, and adaptability of project for use by other teachers. 
Grant applications for the 2024-2025 award cycle are open.
Team Application
Individual Application
If you have general guideline questions, please e­mail Mini-Grants for Teachers Chair, Vanessa Briggs, at minigrants@jlspartanburg.org.